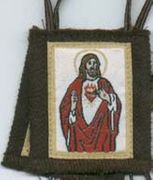 Blessings promised to Individuals for wearing the Sacred Heart Image:

"He promised to pour out into the hearts of all those who honor the image of His Heart all the gifts which it contains. He promised also, to imprint his love on the hearts of all those who would wear this image on their persons and that He would destroy in them all disordered movements."

(Taken from the book, "The devotion to the Sacred Heart of Jesus") Fr.John Croiset, S.J.